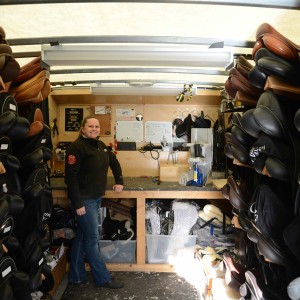 As a saddler there are many alterations and modifications I can do to help make your existing saddle fit your horse better. Of course, sometimes the cost of doing this outweighs the cost of buying a new saddle. This is why I always have a very clear discussion with you about any changes and the associated costs before getting started.
I specialize in on-site alterations, which means I will be able to do most changes at your barn right in front of you. The beauty of being able to do these changes on-site is that you are not without your saddle for any amount of time and we get to make sure that all changes do, in fact, fit the horse better.
Flocking
I use very high quality New Zealand white wool to flock saddles. The benefits of using this wool are that it is very soft, nearly impossible to make lumpy, fantastic on the horse's back, and it breaks in evenly. The downside is that it can pack down fairly quickly so may need more regular maintenance. Some saddlers use a wool mix or a low-grade wool product; however, they can pack down quite hard and lumpy, eventually necessitating a full removal and re-flock of your panels over time.
Some saddles have foam filled panels. The panels of these saddles are literally pieces of foam, foam latex, or even high density felt cut into shape and formed into a panel. These are fine as long as they fit the horse perfectly because we cannot re-flock or alter the packing in these saddles. The benefit is that the panels barely change shape and, as long as nothing changes, the fit won't either.
Air is another common panel fill these days. There are a couple different systems of air panels on the market. One system requires maintenance in the form of adding more air on a regular basis. The most common system is 4 sealed air panels with foam in the middle. It is possible to add some flocking in behind these air panels, which may help these saddles fit better. You must also be aware that a sealed bag may potentially burst at some point, so if you suspect a flat air bag, have it checked out.
There are two common ways to flock a saddle. Most common is spot flocking which is done with your saddle in one piece, the flap lifted up, and wool inserted through an incision that is usually made during manufacturing. Sometimes these incisions are made too far under the stitching so that an additional incision has to be made into your panel. This is completely fine for your saddle and will not affect your saddle's use or value. I try to make my incisions small and inconspicuous. Have a look under your saddle's flap, tight up on the panel by the seat and you will most likely see the incisions I am talking about, that you never noticed before. By using this method, I can really feel the wool being inserted into the panel and, therefore, prevent lumps or over-flocking.
The other method is to drop the panels of your saddle. This means saddlers cut the stitching along the pommel and along the cantle and separate the seat/tree from the sweat flap/panels. This allows us to lay the panel on a flat surface and, by going in through the incisions, we can flock tight into the corners of the panels. It does require more work or skill, but it is the only way to do a full re-flock and sometimes the only way to access the panels depending on the saddle's brand. This too can be done on-site and your saddle will be sewn up "good as new" when I am done.
Sometimes I have to drop your saddle's panels to do other work such as checking your tree's soundness or symmetry, widening your saddle's gullet, moving girth billets, repairs, or to remove flocking. Some of these jobs are just too time consuming or difficult to do on-site, in which case I will take your saddle home to work on my bench. The turnaround time for this is usually 1-2 weeks.
I can also do stitching repairs, patches, panel replacements, channel widening, girth billet replacements, total re-flocking, and various other modifications and alterations.
The Saddle Doctor can help make your riding experience world class. For a custom saddle fitting call us today at 778-240-9072 or complete our online form.