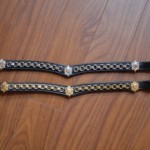 Chain Link V Browband – $75
This beautiful, eye-catching browband is a complement to any horse's head. Slight V shape really brings out features or adds to a plain forehead. A plain but beautiful chain link really grabs attention. Available in 3 sizes: pony, cob, and hack. In brown with gold, and black with silver or gold. The large size is 16.5" long from end to end.
Pure Cotton Felt Saddle Pads
These dense felt cushion pads are what every horse needs to protect its back from added concussion. Does not squish down to nothing like a foam pad does. No bulkier than a foam pad but much more horse friendly. Cotton felt naturally breaths and washes brilliantly. Available in too many color combinations to mention. Dressage (normal $69.95, or swan tail $75) or jumping/all purpose ($59.95) sizes in stock.