Back on Track Blanket – $299
The Rug Classic and Rug Royal rugs have great versatility. They may be used both indoors and outdoors, depending on the season. Many horse owners use the rugs as an extra layer under other rugs or during transportation. The rugs may be used to great advantage prior to exercise or competition in order to warm up muscles and following exercise or competition in order to aid in muscle recuperation. Rug Classic, product nr. 2122, has an exterior cotton/polyester mix. Rug Royal, product nr. 2123, has an exterior cover in polyester.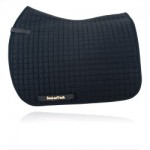 Back on Track Dressage Pad – $95
The Saddle Pad may be used for improvement of the back musculature's suppleness, for instance. By using Back on Track's Saddle Pad during exercise its effect will be further optimised. The Saddle Pad has an interior ceramic fabric lining and an exterior layer made of cotton.
The Saddle Pad is available in dressage and an all-round style, both of which are made for 17″ saddles. The dressage style has a denser stuffing and