Lesley McGill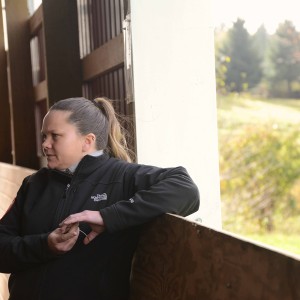 I grew up in BC's Lower Mainland, joining the Panorama Ridge Pony Club at age 7. This was the early start of a successful eventing career and a long connection with the Club. During my time there I spent a lot of time teaching riding and theory, graduated from the Pony Club at 21 with my B certificate. A highlight came in 1994, when I successfully rode for Canada at the North American Young Riders Championships in Chicago at the Intermediate ** Level – the team placed 4th overall!
After graduating with a diploma in Criminology and finding myself horseless for the first time in my life, I packed my bags and went backpacking around the world. My background in horses led to many fantastic jobs and experiences all over the world. I groomed for eventing rider Stuart Tinney in Australia, evented in New Zealand, rode on beaches in many countries, fox hunted in the UK, rode and trained horses in England, and played polo cross in Africa.
While doing an extended overland backpacking trip in Africa I met my New Zealander husband, and not long after that I moved to New Zealand to be with him. I worked in dairy farming, but the hours were dreadful, so when a job came up at Clarke's Saddlery in Christchurch I took it. It was here that I took a keen interest in becoming a saddler, completing an apprenticeship in making and repairing leather and canvas items, which then led to saddle fitting under the guidance and training of second-generation saddler and saddle fitter Nathan Clarke. To this day I am so thankful for the opportunity that Nathan gave me, as it paved the way to where I am today.
When I was competent enough to take the lead, Nathan went on to follow his dreams and I became the house saddler/saddle fitter at Clarke's. During my time there I met Josephine Giles Dancy, who was a Society of Master Saddlers Qualified Saddle Fitter from England and owned The National Saddle Center of New Zealand and the NSC brand of saddles. Working with Josephine opened many more doors into the world of saddlery.
In 2007 my husband and I, and our growing family, moved back to Langley, BC. Expecting there to be many local saddle fitters here, I made plans to pursue my dream of becoming a police officer. However, within a month of returning to BC, my phone began to ring with requests for saddle fittings and consultations. After doing some research and realizing that there were no local saddle fitters, I decided to go and get an international saddle fitting qualification in the UK.
The Society of Master Saddlers (SMS) runs a course followed by a serious 2-day exam that you are only allowed to take after 3 years of working with a SMS Qualified Fitter. So off I went to England and after a stressful week (knowing there is a 50% fail rate) I came away with my SMS Qualification. To this day I continue to travel back and forth to the UK, and many other places, to continue my education.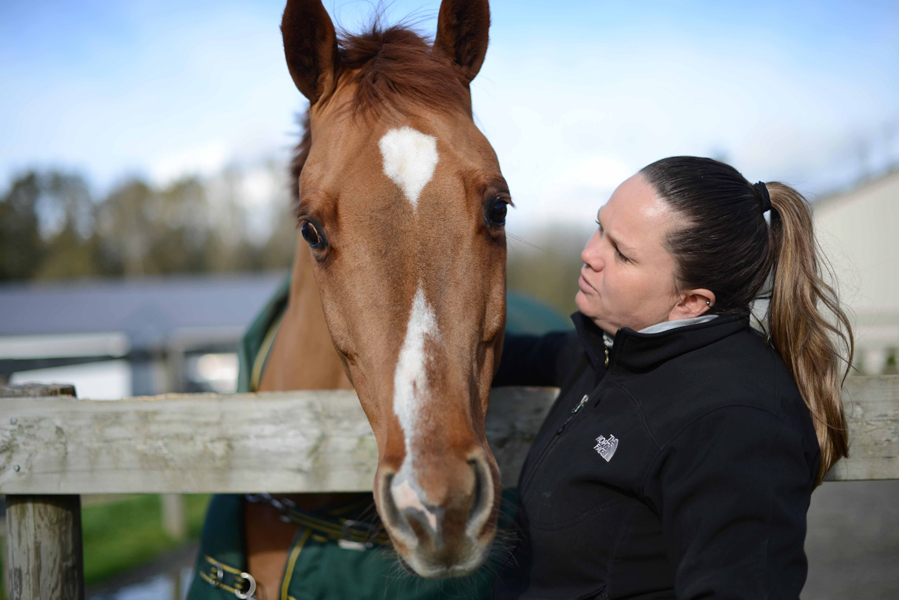 Not long after getting my SMS Qualification I acquired the ownership for the NSC brand for North America. This is a saddle brand that was at the time only available in the UK and New Zealand. As horses all over the world are different shapes and have different needs, and the riders all require different things from saddles, I then began to design saddles for my own NSC line of saddles. These saddles have been successfully selling in BC and Alberta, and now are selling quite well throughout the US.
I have since changed sports and now pursue the sport of Dressage and I have had a few beautiful horses in my time back in BC. Now my kids are getting into riding and I am loving watching them learn the sport that means so much to me. You will see me either on my horse at dressage shows, or chasing my kids around shows.
I have spent a lot of time working with and training saddle fitters in the US and Canada. I love to share my knowledge and learn from other working saddle fitters. As a saddle fitter and saddler there is a lot that I can do to saddles that other saddle fitters may not able to offer. My unique skills and experience set me apart as a specialist in saddle alterations, flocking and adjusting saddles for difficult-to-fit horses.
My approach is to look at every saddle fit as a challenge and to find how I can take a given saddle, horse and rider combination and make it the best that it can be. For a custom saddle fitting call us today at 778-240-9072 or complete our online form.